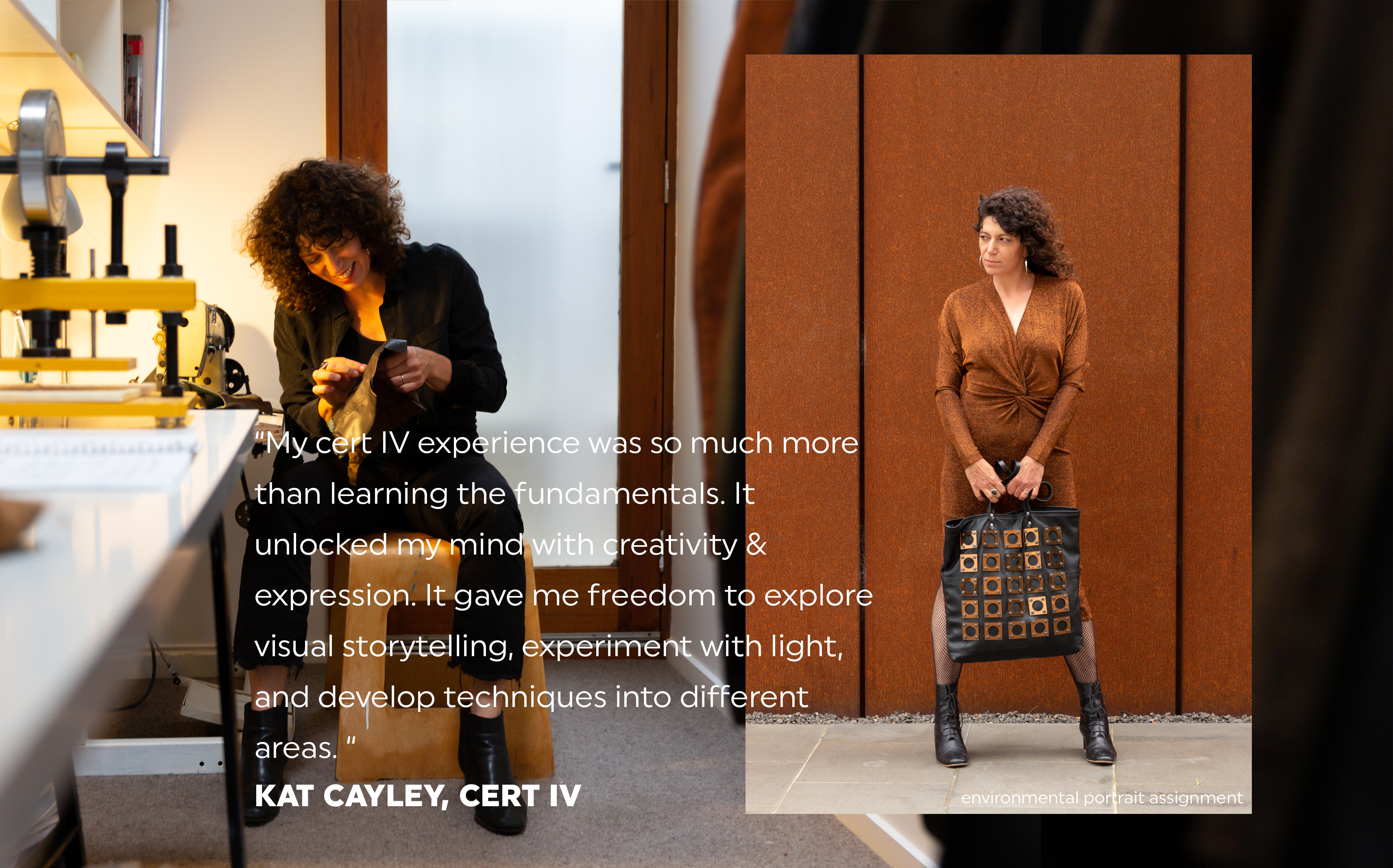 Certificate IV in Photography and Photo Imaging – make the next 6 months count!
Do you have a passion for photography or are you currently working in the industry?
This 6 month course is focused on providing practical photographic skills and hands-on experience, with award-winning PSC teachers and mentors all at our state of the art campus in South Melbourne.
This course will teach you to:
Camera craft and lighting techniques

How to capture and manipulate images, in response to a client brief.

Social media best practice, process and publishing

How to work in a professional photography Studio

Skills for shooting on location

Personal and professional brand development

And so much more!
Why PSC?
Producing career and job ready graduates informs all that we do.
We deliver specialised industry focused courses that are dynamic and responsive to the changing nature of the creative industries.
Our impressive networks and industry connections benefit our students and graduates, providing them with the industry focus for career success.
To find out more, please enter your contact information above and one of our photography course specialists will contact you.
The details:
Starting on Tuesday 5th October 2021 (completed April 2022)

Zoom classes are available until face-to-face classes recommence.

Full time (6hrs per day), Tuesday, Wednesday and Friday.

Enquire now to find-out if you are eligible for Government funding.
To find out more, please enter your contact information and one of our course advisors will contact you.
NEXT INTAKE
5 October 2021
Course Pricing:
This course has four price options based on your individual circumstances:
You Pay $10,500
Full fee paying student, no discounts

Can be paid off monthly, fortnightly, or weekly.



You Pay $3,900
To be eligible for Skills First Funding you must;
Be an Australian citizen, permanent resident

Reside in Victoria

Not hold any qualification higher than a Certificate III (in any field)

Not completed two or more courses using Victorian Government Skills First Funding
You Pay $780
To be eligible for the maximum Skills First Funding you must;
Meet all of the above requirements, and

Hold a Health Care or Pension Concession Card
You Pay $2,100
To be eligible for Job Trainer Funding you must;
Be an Australian citizen or permanent resident

Reside in Victoria

Be unemployed (and be able to show proof) or
Be aged between 17 to 24 year old or

Hold a Health Care or Pension Concession Card